Before going into this build I think it right to dedicate this model to our friend, and fellow model builder, Mike (SpectreNav). I say this as Mike has started into new areas of model building with his forays into monoplanes and with rigging his WWI models. I did much the same here in that this is my first (and so far only) biplane. Fully rigged too! Shocked So I came out of my comfort zone as well. Wink Thanks Mike and everyone who have made me work harder to improve my skills and find joy in rediscovering a fun hobby.
The Polikarpov U-2 / Po-2
First flown in 1926, the Polikarpov U-2 (later designated the Po-2 after the death of its designer in 1944) was created as a docile, yet maneuverable, flight training aircraft or scout plane. It is made of wood and fabric, has open cockpit seating for two (in tandem), and uses five-cylinder air-cooled radial engine for propulsion which gave it a top speed of 105 mph.
During World War II, in addition to serving as it was originally designed, it served as an air ambulance, transport, and most famously as a night attack aircraft for the famous "Night Witches", female pilots who flew nighttime harassment missions over German lines.
The Kit
This is my first build of a kit from ICM which is a company in Ukraine. The parts and decals were in sealed bags inside its lift-top box. In examining the parts I found them to be clean, well molded, and almost entirely free of flash. The plastic is light gray in color and of very good quality. There are several parts attached to a clear sprue. There are 89 pieces in all.
The decals were very nice. Just the right thickness and opacity, The printing was done very well.
The instruction sheet consists of a single piece of paper folded down the center. The front page has a nice rendering of parts, their numbers, and sprue location. Turning the "page" reveals the simple construction plans. The line drawings are done well. The last page is devoted to rigging diagrams (nice touch!) and the paint callouts.
The last printed sheet is devoted to paint diagrams for three versions of the aircraft
Construction
The kit allows you to make one of three versions of the airplane. You can build a scout/trainer (Summer 1943), air ambulance (Summer 1941), or transport (Winter 1942). I opted to build the air ambulance as I thought the patient "pods" on the inside of the lower wing something different. The pods were sectional and could be folded down when not transporting a patient to hospital and save drag on the aircraft. Each pod has a little window so the victim and pilot could see each other. Of note, the pilot rides in the front cockpit and there does not appear to be provision for someone to pilot the airplane from the rear cockpit (even though it also has instruments). I don't know if this is a kit oversight or is the way the plane was configured.
Construction and painting of the aircraft was pretty straight forward. Rigging, however, was (for me anyway) a nightmare! unbelievable I have at least learned, or remembered in this case, to think ahead so did not wait to rig the model at the end of the build. I completed construction and painting of all except the upper wing. I painted it, but did not attach it permanently into place until after most of the rigging was in place. The only wires I left off were the main wing strut wires as I needed to have the upper wing fixed in place to do that. After this was done I touched things up and was happy to be done.
The only complaint I have is how ICM attached some of the clear parts to the sprues. The tops of the thin wind screens had a thick sprue attachment that was difficult to remove. I managed to crack one screen in half doing so. However, I did a pretty decent job of putting it back together using Testors clear parts cement and Pledge floor wax. It almost looks whole. Mr. Green
The decals were excellent and did not cause any problems at all. What a treat as that is not my usual experience with them (especially from Eastern European kits).
Conclusion
I am favorably impressed with the quality and construction of the kit. If this is any indication of the kits made by ICM I will certainly buy more. As for rigging a biplane, I don't think I will ever do a 1:72 model of one again. I have a nice 1:48 yet to build but that won't be for a while (at least until I forget what fun a fully rigged biplane is to do
).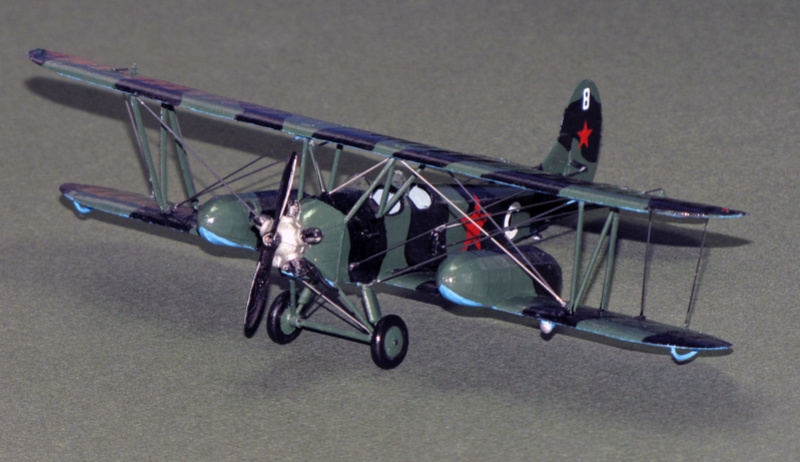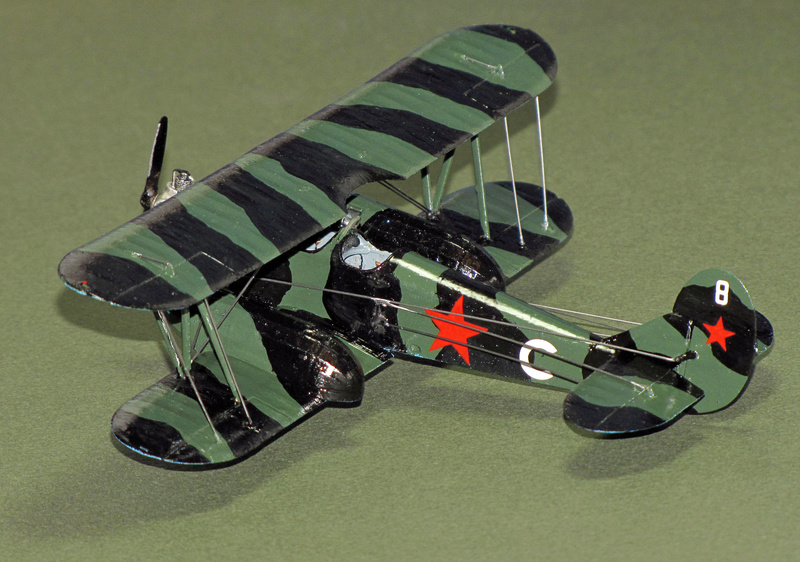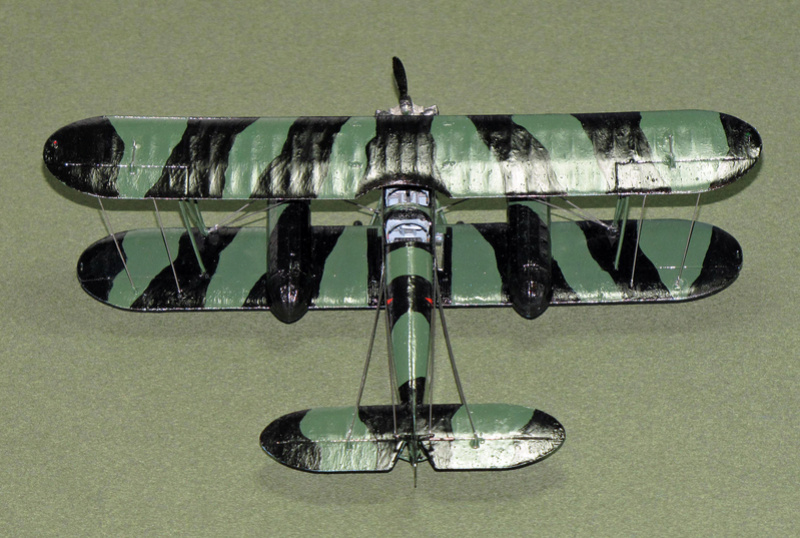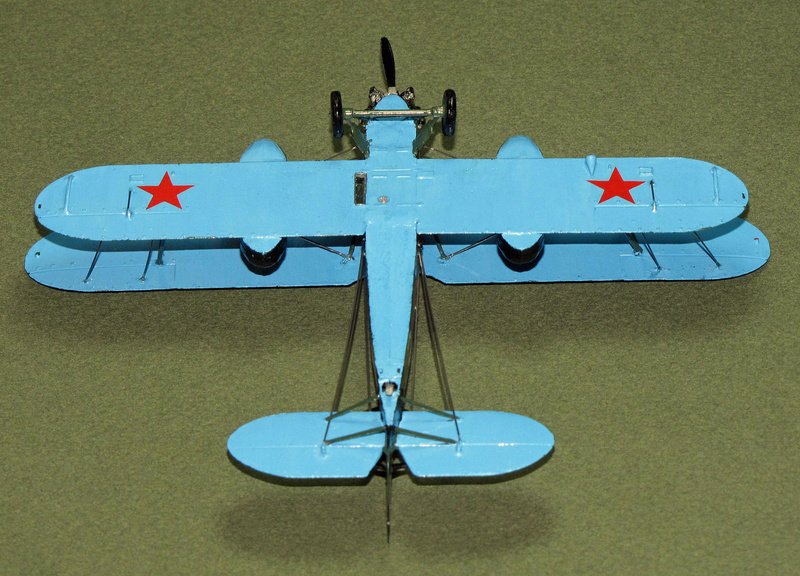 The last pic is of the model next to a contemporary of it, an Antonov I-4 (Encore Models). Both are in the same scale but the I-4, which is a fighter, seems to dwarf the U-2. Were the scales off or was the I-4 a big plane (or the U-2 exceptionally small)?