I'm afraid I have done you all a disservice. Here we have a new forum, and are into our second month of existence, and I have yet to contribute to the Hall of Shame (HoS). Well, I shall now make amends with this, my first (and no doubt not my last) entry into TMACF Hall of Shame.

The F-86D
Based upon the F-86A Sabre jet fighter, the F-86D was designed to be an all-weather interceptor with the addition of a nose-mounted radar fixed under the radome. Unlike other radar-equipped fighters of the period, North American did away with the second crew member (radar operator) by designing a sophisticated electronics system to allow the pilot to work alone. They also replaced the fuselage-mounted machine guns in favor of a retractable fuselage-mounted battery of 24 2.75 inch Mighty Mouse rockets.
The first F-86D flew in December 1949. A little over 2,500 were built before production ceased in 1953. The USAF phased-out the aircraft by the end of 1961.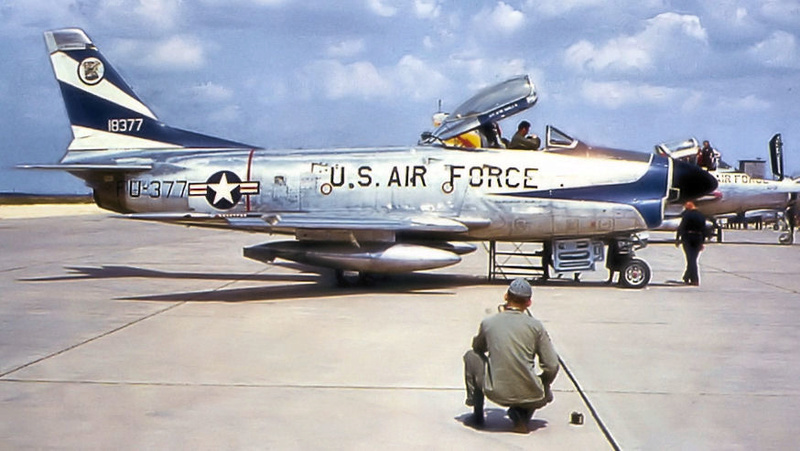 (Photo courtesy of the 525th FIS web site)
Entex 1/48 F-86D Sabre
I've wanted to add an F-86D Sabre to my collection for a long time. Die cast or plastic, 1/72 or 1/48, didn't matter as I just wanted one. I usually try and find a review for any kit I build to better understand any pitfalls I might encounter (I started doing this after my 100th - or so it seemed - addition to the HoS on the old forum). I couldn't find anything on the Entex kit so I bought it on Ebay. Little did I know what I would be in for.  

The kit arrived and the contents was still bagged. There were LOTS of parts (over 125 pieces!) on the 5 sprue trees in that package. One thing I saw was that the enclosed decals looked poor. They were usable, but were just badly printed, soft focus, junk. So I purchased aftermarket SuperScale decals for a Sabre from the 525th Fighter Intercept Squadron, 86th Fighter Intercept Wing. I chose them for no other reason than I liked the scheme (the pic above is of the very aircraft this model is to represent).
I didn't know it when I purchased it, but this kit has an over-abundance of gimmicks. Moving parts, exposed engine, etc. Okay if they worked-out, but misery if not. Since this is a post to the HoS I guess you know how it went.

The Build
The day came for my build to start. I opened the bags and saw that the kit had raised panel lines and rivets for surface details (sorry, I forgot to check the date of the kit and couldn't locate it online). Then came the biggest shock - every part, and I mean EVERY part, was covered in flash. How they managed to do it we will never know (since they are out of business and, dare I say, a kit like this could have been the reason why). So with a heavy sigh I began my build.

When I started with the cockpit, which is bare of anything interesting - including the control stick, I began finding out that not only did I have to clean every piece of flash, but I had to sand / cut-off huge ejection pins from any of the large parts used. Argh! To make it worse, I then began finding parts that were molded incompletely or were offset from their companion piece. I believe my first oath was let loose at this point.
Needless to say, thing only got worse from there. Important parts were missing entirely. I had to use putty to fill-in for missing parts or partially molded parts (air brakes are the most apparent examples). Lots of pre-fitting, sanding, drilling holes, puttying, and filing were needed to make things go together. There was no fun or relaxation to be found with this piece of junk.
The canopy and windscreen were badly scratched and wavy. I polished them as best I could but they are still bad. The canopy will not stay in the raised position without help of a shim I found to use.
The moving parts? They don't. They didn't fit correctly so were MADE to fit and then glued into place.

I hated this model.
But on the bright side, the SuperScale decals were awesome (although they could certainly do with more stenciling).
Conclusion
If you hate someone who is a modeler, then this is the kit to give them. It is Roden worthy. Otherwise it is best avoided at all cost.